One World ~ One Heart
I have joined the wonderful give away event run by Lisa Swifka, A Whimsical Bohemian, the creator and host of One World-ONE Heart. Please click on the logo above to find out everything you need to know about this fabulous initiative! AND to see all the other bloggers that are participating in the project.
Nellie's Giveaway

I have decided my giveaway will be this fabulous button bracelet.
Let me know you would like to be in the draw by leaving your comment on this post with a valid way to contact you.
This bracelet is an original creation of mine with gold plated rings and olive green coloured buttons.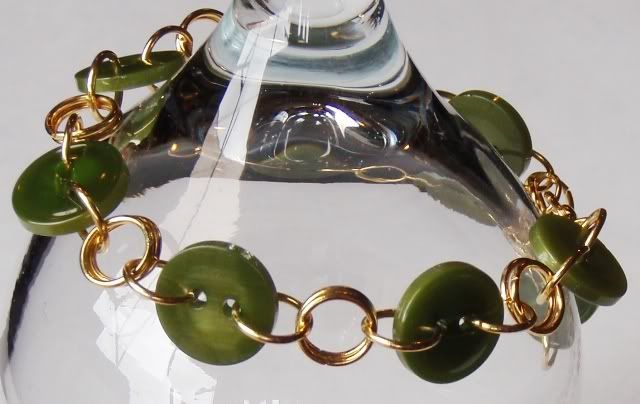 ~~~~~~~~~~~~~~~~~~~~~~~
The idea is to bring together many bloggers all over the world and to share in the spirit of giving but most importantly giving us all a chance to "meet" other people that we may not have otherwise met.
The bloggers involved have a giveaway on their blog and to enter all anyone needs to do is place a comment on this post expressing their desire to go into the draw for this wonderful item. You must also leave contact details such as your email, or a link back to you to enable us to get in contact with you should you be the lucky winner!
Bloggers have until midnight February 3 (PST time~USA) to enter their give-aways and visitors have until 10pm February 11 (PST time~USA) to enter the give-aways in the comments section of the participating blog entries. Anyone is eligible to enter.
The winners will be announced on Feb 12 and will be contacted by the blog owners.